We Have Solutions for All Your Space Related Issues!
FAB Ornate specialises in the manufacture and supply of  the highest quality of Architectural Products . Whether your requirement is for Architectural Louvres, Screens, Panels as well as Wrought Iron Gates, & Balustrades of varying styles & sizes, FAB Ornate Grilles is well placed to provide superior craftmanship, flexibilty and responsiveness to your needs. Servicing Architects, Designers, Developers, Builders, HVAC Contractors, Councils, Hotels and Homeowners, FAB Ornate Grilles utlises our manufacturing expertise to produce a diverse range of decorative and functional Architectural Products. Specialist fabrication includes a variety of materials such as Aluminum, Steel & Stainless Steel and finishes include Powder Coating, Anodising, Brushed, Polished and Plated.
FAB Ornate manufacture a range of Architectual Louvres which offeran aesthetic and practical screening and ventilation solutions for the secure protection of mechanical plant including HVAC systems and electrical equipment.
Manufactured from aluminium extrusion, FAB Ornate louvres are available in nominal 50mm and 100mm deep profiles with varying flange arrangements. Louvre panels can be supplied from each profile which offer either total visual screening or various degrees of partial screening with corresponding levels of free area. Birdmesh is fitted to rear and flyscreen can be provided in removalbe rear frames
FAB Ornate Louvres are manufactured to order in varying sizes and shapes based on project specific requirements. Options include lockable Plantroom Louvred Doors, Penthouse Louvres.
Multiple finishes are available including Powder Coat or Anodised.
FAB Ornate specialise in manufacturing custom designed architectural screens which combine functionaility with highly aesthetic features creating beautiful architectural elements.These architectural screens and panels suit a vast array of Residential and Commercial projects. The ornate-yet-structural quality of an architectural screen can be used in countless ways, including:
Feature Walls
Custom lighting
Exterior Applications
Interior Applications
Create Privacy
Wall Cladding
Screens filtered light or unpleasant views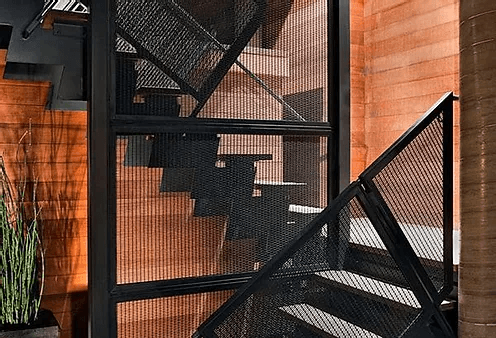 Wrought Iron Gates, Panels, Balustrades
FAB Ornate manufactures custom wrought iron feature products that includes:
Pedestrian Gates
Driveway Entrances
Panels
Infills for brick fences
Balustrades for both internal and external applications
FAB Ornate works closely with the client and our experienced staff are commited to assisting you realise your unique or specific design concept through to manufacture and delivery.
The finished products are galvansied and then powder coated to the nominated colour.